Machine downtime in manufacturing automation
Increasing market demand and customer demands for higher quality and efficiency of products and processes force companies to think of new and innovative ways to optimize their factory production. Increasing efficiency and shortening lead times have brought a lot of attention to the amount of time machines are not in production.Automated manufacturing companies often underestimate the cost and amount of downtime they experience, even though it greatly affects the capacity of an entire factory floor. Below, we will look at some concrete CNC machine monitoring strategies and solutions to detect and reduce machine downtime to ensure that machines are generating the highest possible output.
The real cost of downtime
While automated production machines operators are generally aware that machine downtime is a major problem in business, several studies claim that most companies significantly underestimate their true cost of downtime. In addition, a large percentage of companies lack sufficient data to accurately estimate the cost of their downtime, which leads to incorrect estimates and results in directives being taken in the wrong direction to address this problem. With recent industrial IIoT applications involving extensive machine connectivity and monitoring solutions, data collection is not an issue, and data analytics can provide a wealth of information to assess these kinds of problems.
In order to be able to assess the situation in the company and look for improvements, it is essential to clearly identify the main causes of downtime. By analyzing the causes, it will be possible to find inefficiencies, in some cases obvious and in others not so much, so it is a way to detect multiple areas for improvement. We will look at some of the most common reasons for machine failures and causes of downtime in manufacturing automation systems.
1. Process Stoppages and Inefficiencies
Regardless of the manufacturing process, all equipment has downtime, where it is unavailable due to schedule changes, tool changes, material, and part changes, or any other production changes that need to be made while the equipment is stopped. However, many of these processes are highly inefficient and can potentially be improved using measurement, analysis, and improvement tools. To do this, some companies choose to track this time manually, but this does not always result in good data, and the information can be inefficient and inaccurate.
Anyone who has ever walked a shop floor knows that to err is human, and even more so in manufacturing and machining. Forgetfulness, mistakes, or rework can result in downtime that can be considerable before it is noticed. The training of operators and the transmission of practical knowledge is fundamental to reduce this type of error.
Material downtime is known to produce an associated cost, which many manufacturers try to reduce by working as tightly as possible with just-in-time manufacturing methods. This strategy has its downsides, as tight inventory can increase downtime in the event of supply chain mishaps. Having insight into demand forecasting and material supply can help mitigate this problem.
4. Inefficient maintenance
Insufficient or excessive maintenance can lead to failures and excessive downtime. This point is again a possibility for improvement using monitoring software, as connected devices have the benefit of reducing your need for preventive maintenance. By accurately collecting data from machines, it is possible to better predict when maintenance is needed.On the other hand, it is also important to reduce planned equipment downtime (maintenance downtime) in order to free up resources and make it easier to detect the size and scope of unplanned downtime.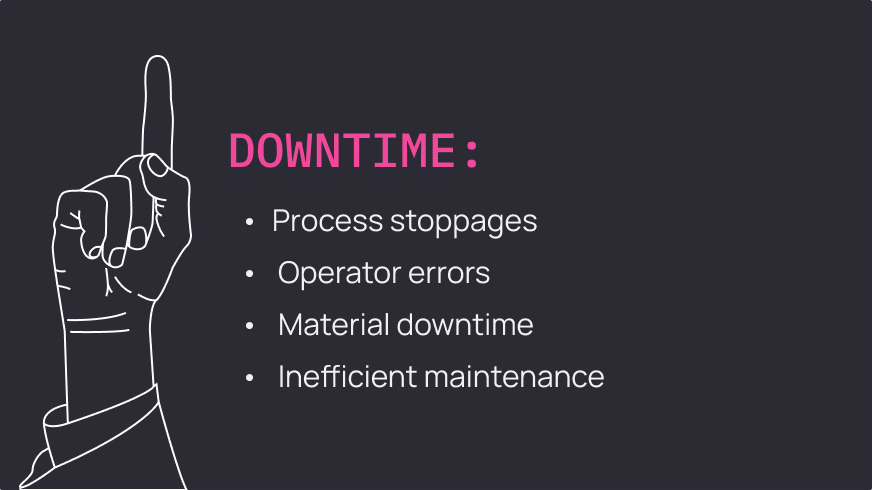 The road to reducing manufacturing downtime
It is imperative to follow the path of analytics using data as a foundation. CNC machine monitoring and measuring is the way to detect problems and drive decision-making that successfully improves the efficiency of industrial processes. Using data as a basis is the first step in knowing what affects production and delivery times the most. At xyndata, we provide machine monitoring solutions that provide accurate machine data in real-time. This data identifies gaps and opportunities for manufacturing managers to drive improvements. All information is automatically collected and standardized for display in real-time reports and dashboards, pre-configured and customized by our team according to your organization's needs.